Our Sharon is Having a Baby!!!
(May 29,  2018 Update) Congrats and Best Wishes to our server and hostess Sharon Parker!  We are expecting a new baby next month in June. Here is a picture of her before her baby bump!  We are all so happy for her and will miss her during her maternity leave.  Her last evening as a server is Thursday, May 31 1st.  Please join us in wishing her much excitement and happiness in the future.
Join us at 8:30 pm Thursday May 31st for a complimentary glass of wine and give our Sharon, the mother-to-be a great big hug and good wishes.
Our Chef Ermes: Heading toward 30 years of Amazing Cuisine at Montecatini

(April 2018) In the past 30 years, many many restaurants have come and gone in the San Francisco East Bay Area, and many chefs have come and gone in each restaurant, but our Chef Ermes Paulin is truly exceptional. He has been at the helm of Montecatini since our opening, a few minutes before the Loma Prieta Earthquake on October 17, 1989.  Because of Chef Ermes' amazing culinary talent and hardwork, Montecatini has been awarded Diablo Magazine's 2002, 2007, 2016 and 2017 Best Italian restaurant in the San Francisco East Bay, and numerous other honors and recognition.
Hardworking, talented and humble, our Chef Ermes Paulin has been going to work at Montecatini almost every morning for the past ~29 years, meticulously preparing and creating amazing pastas, sauces & dinners that have delighted at least two generations of East Bay residents and worldwide visitors.  Borne in Vicenza, Italy, Chef Ermes was classically trained in Rome at the age of 17 for two intensive years at one of the most prestigious culinary academy of the time. After graduation, Chef Ermes had worked in Rome, London, Ramsar, the cruise ship Fairsea, San Diego and now in the San Francisco Bay Area. He had cooked for heads of states of the past, such as the last king of Italy Umberto II and Ronald Reagan, and sport celebrities of the present, such as Tony La Russa and Klay Thompson at Montecatini Ristorante.
Always shy of publicity, when Chef Ermes became owner of Montecatini in 2014, he protested when his wife, Teresa wanted to put his name on the dinner menu. Teresa prevailed, and for the first time in 25 years, the Chef's name is on Montecatini's dinner menu, and slowly, Montecatini customers started to learn his name. E-R-M-E-S is pronounced like "Aramis". Our kitchen is in the front of the restaurant, so say "Ciao Chef Ermes" when you see him in the kitchen! ("Ciao" is pronounced like "chow".)
Showstoppers Brick Chicken and Lasagna

(February 2018) Diablo Magazine is currently (Feb 2018 Issue) highlighting Montecatini's Pollo Alla Schiacciata and Lasagna Casalinga as "Showstoppers" within the SF East Bay food scene. "Crispy", "Juicy" and "Unique"! Indeed those two dishes are among our customers' favorites!!! Chef Ermes prepares our Schiacciata (Brick-pressed) from fresh 1/2 chicken (never pre-cooked) with fresh rosemary each time; served piping hot from the oven, it is amazingly juicy and sumptuous… but you must be patient, it takes 25-30 minutes to prepare. Our Lasagna Casalinga is truly Italian comfort food, with our unique signature tomato cream sauce, which also takes 25 minutes to prepare. They are well-worth the wait!
Celebrate our 28th Anniversary Today!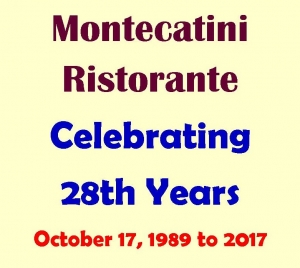 (October 17, 2017) Free Prosecco (Italian Champagne) for all our guests joining us for dinner tonight! It was 28 years ago that the Loma Prieta Earthquake hit the San Francisco Bay Area, several minutes after Chef Ermes opened the doors to Montecatini Ristorante for the 1st time! Chef Ermes is now our Chef-owner and he is still here almost everyday, creating the most delicious cuisine for all our guests. Please join us for dinner.
Wine Spectator Magazine honors Montecatini Wine List
(July 2017) Wine Spectator Magazine honors Montecatini Ristorante "for having one of the most outstanding restaurant wine lists in the world." We are delighted and humbled for receiving this Award of Excellence from Wine Spectator, being in the company of some of the finest restaurants around the world. Please visit https://restaurants.winespectator.com/restaurant/3919/montecatini-ristorante or read page 94 of Wine Spectator's August 31, 2017 issue.
Our philosophy at Montecatini is to provide authentic Italian cuisine, amazing service, and superb wines and cocktails that would bring joy to everyone, whether for a family on a budget or a foodie on a first date. Our wine list highlights Italian and Californian wines, being an Italian restaurant that is located within 2-hour driving distance of the world famous Napa and Sonoma Valleys. We carry Orin Swift's Machete on our wine list long before it was name #6 on Wine Spectator's list of 2016 Top 100 wines in the world. Along with our wine list, we also feature a wine-by-the-glass list with about 25 wines, of which nearly 15 wines are available at Happy Hour prices from 5:00 to 6:30 pm every day. We change our wine-by-the-glass list regularly but always have several delightful Italian wines starting at $5-7. We want to make expensive wines accessible and comfortable for our guests. For example, we have Frank Family Zinfandel for $10 and Far Niente Chardonnay for $15 during Happy Hour. Whether our customers want to be modest or spurge for a special evening, we have wines to meet everyone's wishes, and our wait staff treats everyone like royalty regardless of the wines they ordered.

Montecatini Ristorante is the Best Italian in the San Francisco East Bay 2017
(July 2017) Thank you, Montecatini customers and Diablo Magazine readers, who just voted Montecatini the Best Italian Restaurant in the San Francisco East Bay Area in 2017 (http://trendmag2.trendoffset.com/publication/?i=418838&p=52), like you did last year in 2016, and also in 2007, and 2002! Our Executive Chef and Owner, Ermes Paulin, is the heart and soul of our restaurant, who opened Montecatini on the day of the Loma Prieta Earthquake on October 17, 1989! He is still here at the restaurant every day, creating the most delicious cuisine from his native Italy!
Montecatini featured in KRON Channel 4 TV
(April 22, 2017) Check out this TV coverage on Montecatini Ristorante where Yelp's Community Manager, Stephanie Yolich stopped by the KRON4 studios to tell Anchor Will Tran about Walnut Creek Restaurant Week 2017.  She featured four Walnut Creek restaurants where Montecatini is one of the 4 restaurants Yelp reviewers highly recommended.  Please watch this video.
Join us for Restaurant Week 2017
(April 1, 2017) Join us for dinner from Sunday April 23 through Sunday April 30, and enjoy a three-course dinner for $30. You will have the choice of our Minestrone Toscano Soup or Salad, choice of entrees including Capellini Prawns, Pork Cutlet Sorrento or our famous Seppia Dore, and also dessert of Tiramisu Montecatini or Cheesecake Del Giorno. Please click here to see our Restaurant Week 2017 menu.
Celebrating Chef Ermes 3rd Anniversary as Chef-Owner
(April 1, 2017) Today is the 3rd Anniversary that our Chef Ermes became Chef-owner of Montecatini. He opened the restaurant on the day of the Loma Prieta Earthquake on October 17, 1989 and was Chef-employee for almost 25 years until 2014. Chef Ermes is still here almost everyday making delicious Italian cuisine for everyone! Read more about our Chef at http://montecatinirestaurant.com/our-story/
We've been voted Best Pasta in Walnut Creek
(December 2016) The December 2016 issue of Walnut Creek magazine revealed the Best of Walnut Creek in 2016… Montecatini's signature dish Fettuccine Alla Viareggina has been voted to be the BEST PASTA IN WALNUT CREEK! We are grateful for this honor and appreciative for this special gift from Santa and our Walnut Creek community! We promised to continue to put a little love in every dish we made, just like we have been since 1989.
Chef Ermes said the name of this dish is from the Tuscany coastal town of Viareggio, where it is famous for their carnival of Viareggio dating back to 1873. The people from Viareggio are called Viareggina whose everyday lives are full of vibrant beauty and great seafood. Thus, they inspired our Montecatini dish, Fettuccine Alla Viareggina made with large scallops, large prawns, bay shrimp, and mushrooms in our signature tomato cream sauce. (We make each pasta dish fresh and individually after your order. So, if you want a little spicy kick to your order, just tell your server… we will be happy to accommodate.)

Celebrating our 27th Anniversary
(October 2016) After so many years, Chef Ermes, Raul Lopez, and David Lopez are still working at Montecatini almost everyday, like 27 years ago. Pass by our kitchen and congratulate them on bringing joy to so many people over the years. Although Montecatini only serves dinners, you can find Chef Ermes in the kitchen almost everyday starting around 10 am planning and prepping for that evening's cuisine. Knock on the window to say Hi and he loves it if you speak Italian to him!

Best Italian Restaurant in the East Bay
(July 2016) Montecatini Ristorante has been awarded the "Best of the East Bay 2016″ for Best Italian restaurant! San Francisco East Bay Area's Diablo Magazine had make this announcement. Diablo readers chose Montecatini Ristorante the Best Italian Restaurant in the East Bay!  Thank you for this honored recognition! We promise to live up to this award by providing our customers with amazingly delicious Italian cuisine and impeccable service at all times.
Montecatini makes the Best Chicken Piccata in the San Francisco East Bay!!!
(August 2016) Diablo Magazine's August 2016 Issue just published their foodie staff's "100 Best Bites" of San Francisco East Bay. Page 30 (#36) of the magazine describes Chef Ermes' Pollo Alla Piccata, "In this Italian classic, juicy chicken breast rests in a lemon-drizzled white wine sauce, and is served with pasta and steamed vegetables." Simply sumptuous!
Best Italian Restaurant in Walnut Creek
(November 2015)  Montecatini has been recognized as the "Best Italian" restaurant of Walnut Creek by the readers of Walnut Creek Magazine.  See Page 39  of the November/December 2015 Issue of Walnut Creek Magazine to read about us. We give thanks to customers like you! who give us inspiration to do our best every day, to have fun and share a delicious life!

Pope Francis is visiting the United States
(September 2015)   Some of our customers told us that our Chef Ermes Paulin looks like Pope Francis? What do you think?
We know they have a few things in common: Both speak Italian, have the Roman nose, like Fiat, and they are hardworking and humble men that bring a little bit of heaven into our lives.
86 Magazine wrote an article about Montecatini Ristorante
(June 2015) Read San Francisco East Bay Area 86 Magazine featured article about us in their July 2015 Issue Click here. 
Chef Ermes Paulin Finally Became Chef-Owner
(April 1, 2014) Chef Ermes Paulin and his wife Teresa Cheung became owners of Montecatini Ristorante!  Read our story here and take our Quiz to learn more about Chef Ermes, Teresa and Montecatini Ristorante.
Diablo Magazine Best of East Bay 2007:  Best Italian Restaurant
(2007) Montecatini, lead by Chef Ermes, is recognized again for being the Best Italian Restaurant in the San Francisco East Bay Area with Diablo Magazine's Best of East Bay 2007 Award.
Diablo Magazine Best of East Bay 2002:  Best Italian Restaurant
(2002) Chef Ermes Paulin lead the Montecatini team and received Diablo Magazine's Best of East Bay 2002 Award for Best Italian Restaurant.
Ray Sold Montecatini to Kip Finn
(~1995) Owner Ray Johnson sold Montecatini Ristorante to Kip Finn.
Montecatini Opened… Earthquake Shook
(1989) Montecatini Ristorante opened by owner Ray Johnson and Chef Ermes Paulin on October 17, 1989, several minutes before the 7.1 Loma Prieta Earthquake that ended Game 3 of the Oakland A's vs SF Giants World Series. There were 26 customers that evening!  Ray named the restaurant after the little town in Tuscany Italy where his grandmother came from, Montecatini.