October 17, 1989 to 2019!
Montecatini celebrated its 30th Anniversary on October 17th this year. We opened at the same hour when the Loma Prieta Earthquake hit the San Francisco Bay Area. Chef Ermes Paulin opened the restaurant at 5 pm, and four minutes later, the 6.9 earthquake shook the Bay Area. Since then, Montecatini has become a timeless classic, serving consistently delicious Italian cuisine and fine wines to the San Francisco East Bay community and to travelers far and wide.
While today's dining scene news mostly consists of openings and closings of restaurants, this is a rare story of one restaurant, Montecatini, with one hard working talented chef, Ermes Paulin, that weathered 30 years of economic ups and downs, made adjustments to recessions, listened to diners' preferences, and continues to be successful and relevant.
The foundation of a great restaurant is consistently delicious food. Chef Ermes Paulin is on task every day leading his staff at Montecatini to achieve that. Chef Ermes, born in Vicenza Italy and classically culinary trained in Rome, worked as a chef in Rome, London, the cruise ship Fairsea and various California restaurants before he started in Montecatini in 1989 as Chef… Read more click here.
We ask our customers to tell us their Montecatini stories and memories.
Here are some of their responses:

I have been a long time fan since the opening. Hard to believe it's been 30 years. At the time of the opening I lived a few blocks away on Lincoln Ave., and do remember going through the Loma Pieta Earthquake. I believe I first tried your "new" Italian restaurant a few weeks later, one of the very few in Walnut Creek serving authentic Italian cuisine at the time. This was long before the neighborhood was noted for having any type of specialized dining, and San Francisco writers, pundits, and food critics always said it was a culinary "wasteland," and would never come anywhere near the City's food scene. I guess they got that wrong.
Some people would say the restaurant's unique design, with the kitchen in front exposed to Main Street via a glass enclosure, was a mistake. I think it is brilliant. So much magic delivered in such a tiny space. Not only do patrons get to see the care Chef Ermes and his brigade take in preparation, it serves as a brilliant marketing function for the business. With the kitchen vent fans located at the front, and when the chef fires up his meals, the unforgettable aromas waft thoughout that part of town. I remember on several occasions walking out of my home, wondering where to walk to for dinner, smelling the Chef's cooking, and being drawn-in for dinner. Who knew that sautéed garlic had such great marketing appeal. Brilliant.
Over the years, "Monte's" became my go-to, hang-out because of the friendly staff, a great social scene (bar), wonderful food, and efficient service. I can't tell you how many great friends I've met there and still in contact with today. Being single, I've started and ended more relationships in your restaurant than I'd like to admit. It is my "Cheers" hangout and the highlight of my residence in Walnut Creek.
In 2002 I moved from the East Bay area to Pismo Beach, but have never found a restaurant here where I felt as at home. Now with every trip I take to the Bay Area I try to stop in and have the all-too-addictive Sepia Dore' or Brick Chicken dishes. I'm so glad to see how Montecatini just keeps rolling along especially over the years in light of onerous handicap revisions, escalating space costs, city regulations, much more limited parking than in the old days. Hang in there folks… at least for another 30. Looking forward to experiencing your delightful establishment in the near future with ol' friends.
Congratulations on becoming an iconic restaurant,
Yancy Young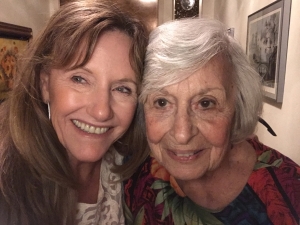 Just wanted to tell you dinner last night was awesome as always! This photo is from Oct 2018 with then 97 of Louise. She's now 98 and our last 2 visits to Montes we did take out to make it easier for her. We're counting on her making 100 and with a little luck maybe another celebration at Montecatini! She may win the record for the youngest 98 year old to LOVE Chef Ermes cooking! She's a kick in the pants!
Happy 30th Anniversary!
All the best!
Charli Brown
O

n March 19th 1992 at 7 pm I walked into Montecatini's with Carolyn Connelly. It was our first date. On March 19th 2019 at 7 pm I walked into Montecatini's with my girlfriend, Carolyn Connelly Regan, to celebrate not only the 26th year since our first date but 25 years of marriage.
We are so grateful that Montecatini's has been with us all of these years. While we almost always celebrate our first date or Wedding anniversary at Montecatini's it is also one of our favorite date night destinations. (Emil Villa's may be the only other restaurant still serving Walnut Creek diners).
Just how did we choose Montecatini's for our first date? It wasn't me. I was a single dad with four daughters under age 9 so my recent dining experiences consisted of Hubcaps, Emil Villas, Marie Callendars and the old Pinky's Pizza (although Pinky's was our first date with the girls). I had to defer to Carolyn to choose where to go.
We are blessed that Carolyn chose Montecatini's. Here is to many more years.
Rob Regan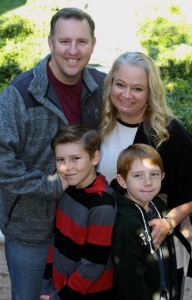 Love Montecatini's…it's a family favorite for sure!!
My husband and I met for our first date at Montecatini's on April 26th, 2000. We have now been married 17 years. We have celebrated many anniversaries at Montecatini's and always look forward to the staff and the amazing food! Anytime family or friends come to visit they get to experience it with us. Veal Piccata and Eggplant Parmesan are two of our favorites.
A big Congratulations on 30 years of great food and memories. Cheers to many, many more.
Sincerely,
Ian & Cheyney Butler
My memories are of the beautiful people that we have met through Montecatini. Most of those people are your employees! We have also met some of our life long friends through the restaurant. Shout out to Juan, Marco, Jennie, Terrance, Taylor, Sharon, Stephen, Aida, Danny, and David. To our friends Wil, Nancy, Bryan, Nick, & Louis. Thank you Teresa and Ermes for having a wonderful restaurant where we can gather at!
Natalie Tognolini

My husband and I had one of our first dates at Montecatini's more than 20 years ago. We "fell in love" at your restaurant and celebrate our anniversary there annually. We've felt close to many of the staff and they have watched us age! We regularly go to the restaurant to enjoy the fabulous food and wonderful vibe. While you rocked in 1989, you are still rolling in 2019. Congratulations
Claire Holmes & Bill Poloske, devoted customers and still happily married
Happy 30 year Anniversary to you and Ermes. We have been enjoying great meals and great service at your place for the past 30 years…..
Enclosed is a pic I found of a 2010 New Year's Eve dinner with our good friends The Balesterieri's. It is a special picture, as all our kids are little and not off to college….. We have had great times and great food at Montecatini over the years celebrating holidays and Birthdays.
Congratulations
Steve Zodikoff
We have spent the past 18 years in Orinda and have enjoyed the comfort of Montecatini's many times. Even before we lived in the East Bay, good friends from Walnut Creek & Concord introduced us to the fun of Montecatini's. Last Sunday we hosted a family dinner there with 11 of us. So good.  Everyone loved the delicious food.  Our server was spectacular. Here is a photo of our family at Montecatini.   Congratulations.
Lou & Carla Bronfeld.

Congrats on your anniversary. My favorite Montecatini memory was back on Friday June 17 1994. that particular Friday happened to be date night, and we had reservations at Montecatini. That day also happened to be the day that the infamous OJ Simpson bronco chase took place. I wanted to stay home and watch TV, but my wife talked me into going. we get to the restaurant to find a good number of people (if not most) in the restaurant watching the TV in the bar. we snagged a table for 2 across from the bar area, and had a great dinner while watching the bronco chase with a roomful of other diners. no idea of what we ate (or drank) but do fondly remember the evening.
Joe Baem

On June 17, 1994 my wife and I had an early dinner reservation and were looking forward to a relaxing dinner at Montecatini.  We were seated in viewing distance of the TV in the bar as we were enjoying our wine we glanced at the TV and were surprised to see the live TV coverage of the famous OJ Simpson slow Bronco chase!
The TV coverage was so compelling that we delayed our dinner and walked back and forth between our table and a better view of the TV in the bar.  To our relief, the Bronco finally stopped at OJ's house and we could finally resume our meal. 
To this day, we have memories of that night at Montecatini Restaurant.
Doug and Patti Eisner

Early in our marriage, Montecatini was our favorite restaurant; we'd have dinner there only twice a month. I would called in to make the reservations and Kip would always answer. Within a few of months of making reservations, he actually remembered my voice and called me by name. It was amazing! At dinner, we were mostly seated in Tex's station. He was the best waiter we have ever had even to this day. He would make dinner and wine suggestions and he was always spot on. We hope him and his wife got back together, we think of him often. Of course, we also always had David, too. When we go back now, it's good to see a familiar face. Without fail, on our way out of the restaurant we would stop and applaud all the chefs. Those were special times. Congrats on your 30 years.
Becky Baem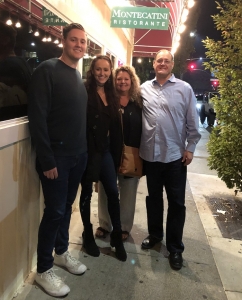 I have been on a swim team since the age of six. Swimming is a huge passion of mine! Starting at the age of  12,  I would come in to Montecatini restaurant after my swim meets. My parents would reward me with a huge bowl of "angel hair pasta with meat sauce". Those exact words would come out of my mouth when I would tell the waiter what I wanted, even though this wasn't an exact option on the menu! To this day, I order the same dish, and it tastes absolutely amazing every time. Montecatini is my favorite restaurant and I still come back every year for my birthday. Thank you Montecatini!!
Kaitlyn Riley
My family and I love Montecatini's. We have so many great memories of birthdays, graduation, Mother's Day, Valentine's Day, and just day to day eating out. We enjoy the amazing food and the welcoming staff that makes us feel like family each time we dine here. One of my fondest memories is when our youngest daughter was student of the week. She was asked to take her classroom stuffed animal and share pictures with her class of the time spent with Sully. She was quick to suggest we take Sully to her favorite restaurant, Montecatini. I hope you enjoy our pics as much as she did sharing to her class.
Thank you for the many years of great service, food, and memories!
The Torres Family

We love Montecatini. We have enjoyed many dinners. We chose Montecatini for our son's 28th birthday. It was election night. We were having a great time. Then we look up at the TV and see Donald Trump is winning in the polls. We were in absolute disbelief. We are still in disbelief. What is so funny is every time we have had dinner since that night, we are seated at the same table. We laugh each time then I drown myself in wonderful Montecatini Martini and my husband with a beer to lessen the memory of the election and enjoy an awesome dinner.
We will be back very soon!
Terri Adamo

Twenty years ago, our youngest son Tyler, who was 5 at the time, was an extremely picky eater and finding restaurants that we could happily bring him to were extremely limited. One evening we brought our family to Montecatini with fingers crossed. We asked our server to prepare a simple plate of pasta and marinara sauce. He ate the whole thing! We asked him as we left what he thought of his dinner. He said it was phenomenal. We didn't even know he knew the word! It became our favorite go to restaurant because the rest of us agreed with Tyler!
Dave Handy